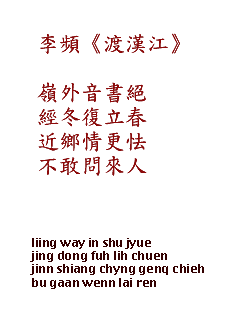 Heimweg

Über die Berge verschlagen,
haben Briefe mich nimmer erreicht.
Winter und Frühling
hab ich ertragen.
Nun, da die Heimat in Sicht,
wird es mir bang;
Ich wage nicht,
die mir begegnen, zu fragen.
(übers. G. Debon)
On the way home
Cut off - no news
from home beyond the hill,
Winter has passed,
and spring again is near.
So close my village now,
my heart so heavy still:
Those on the way
I dare not ask, for fear...
(tr. A. W. Tüting)
klama le dibzda
lei galma'a se bancu
.ijenai ze'u klamu'o mi
fa lo notci
.i pu ra'unre'i le dunra
.i capu'o vensa seltei
.i ca ve'a viska le dibzda
.i mi ca zmadu'u
le ba selju'o
.itemu'ibo mi na darsi
lenu ca reisku
fi lei se penmi
be fi lemi dargu
(fanva fa zoi gy A.W. Tüting gy)