Although he is not my favourite, I like
this beautiful little piece of poetry.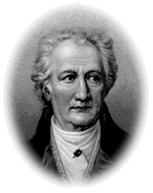 Johann Wolfgang von Goethe
(1749 - 1832)


Wanderer's Nightsong
(excerpt)

O'er all the hilltops
Is quiet now,
In all the treetops
Hearest thou
Hardly a breath;
The birds are asleep
in the trees:
Wait: soon like these
Thou too shalt rest.

(author unknown)

Vándor éji dala
(részlet)

Immár minden bércet
csend ül.
Halk lomb, alig érzed,
lendül:
sóhajt az éj.
Már búvik a berki madárka,
te is nemsokára
nyugszol, ne félj.

(Tóth Árpád ford.)

chyunfeng i piann chern jyi
shuhshau wei feng liann jih
lin jong chih neau jianmoh
shau day nii yee anshyi



qun2feng1 yi pian4 chen2 ji2
shu4shao1 wei2 feng1 lian4 ji4
lin2 zhong1 qi4 niao3 jian1mo4
shao1 dai4 ni3 ye3 an1xi2

(Transl. Qian Chunqi)

nicte selsa'a be le dzuli'u

.i smaji ga'u ro cmana
.i to'o ro ricycpana
caku seltirna
fa ji'ino nunva'u
.i lei ricne'i cmacipni
caze'e ba'o grisa'a
.i doido'u ko denpa le li'i
do ji'a baza smaji .i ba'a

(la lojban. te fanva zoidy. A.W. Tüting dy.)

You are reader nr.




since November 2001


---

(Homepage) | (Other poems in different languages) | (My Poems)